Archive for October, 2016
Attending a Columbus Blue Jackets hockey game is one of the most exciting things you can do and is only steps from your downtown Columbus apartment. From the time you arrive to the time you leave- The excitement of the Arena District, the boom of the cannons, the cheers of the crowd, stinger, beer, pizza, dancing Kevin, everything you experience is a win, according to the National Hockey League. The game day experience of fans attending a Blue Jackets game is among the best based on a survey conducted during the 2015-16 season.
"As an organization, we are committed to and take great pride in providing our guests with a world-class experience every time they come to a Blue Jackets game at Nationwide Arena," said club President Mike Priest. "Succeeding in that effort isn't possible without the hard work and contributions of every single person that works our games and the support of great partners like Columbus Arena Management, Delaware North, Contemporary Services Corporation, Standard Parking and Jani-King, who share that commitment with us. Our fans are our top priority. We truly appreciate their feedback and we'll continue to work to enhance their game day experience."Close to 6,000 Blue Jackets fans were polled to evaluate all aspects of their game day experience including categories such as game day staff, food and beverage, venue technology, safety and security, auxiliary experience and arrival and departure.
One of the other reasons that fans could love coming to Blue Jacket's Home Games is that the Arena District itself makes for an incredible fan experience. R Bar has been voted one of the best hockey bars in Columbus and always have fun game day specials. They also offer the longest happy hour in the Arena District lasting from 2-8pm. Other Columbus downtown bars and restaurants also fill up with fans on games days! See all of our Food and Drink offerings in the Arena District here and make sure you come early or stay late next time you are in the Arena District.
If you are a current resident, and love hockey, make sure to keep an eye for ticket contests on our social pages. We had recently raffled off tickets on our Apartments at the Yard, Arena Crossing, Flats on Vine, and Flats II Facebook pages. Right now, Arena Crossing is promoting free tickets to either a Blue Jackets game or Express Live concert to anyone that tours and leases by October 31st!
The Blue Jackets return to action soon. See their Full Home Schedule Here. Tickets for all home games are currently available for purchase online at BlueJackets.com, Ticketmaster.com, or in person at the Big Lots Box Office at Nationwide Arena, OhioHealth Chiller Ice Rinks and all Ticketmaster Ticket Centers. Fans may purchase tickets by phone at (800) 745‐3000.
See the original article HERE.
---
FALL FESTIVALS YOU HAVE TO CATCH IN COLUMBUS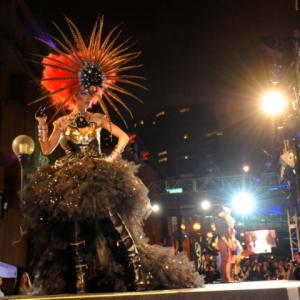 The best thing about living in Flats on Vine, Flats II and Arena Crossing is the close proximity to all of the festivals and entertainment! During the fall we look forward to a number of festivals from Italian food to the international film festival and of course Halloween wouldn't be the same without HighBall!
Italian Festival October 10-12
Enjoy a tasty weekend at the Italian festival located in Italian Village. Take a tasting tour of italian food, wine and beer and enjoy some neighborly competition at the Bocce tournament.
Columbus Comedy Festival October 23-25
Columbus Comedy Festival located at Wild Goose Creative in Clintonville, performances range from sketch, improv, and standup. Support local comedians and enjoy some laughs!
HighBall October 21-22
Friday 10.21
6:00PM: HB ON THE ROCKS includes a 6pm Stardust Happy Hour, so paint a lightening bolt on your face and join the other David Bowie fanatics and get into Highball free until 7pm
8: 00PM Damn the Witch Siren
9:00PM Fabulous Johnson Brothers
10:00PM HB: On The Rocks Public Costume Contest
10:45PM Robert DeLong
Saturday 10.22
Glam it up with your neighbors and friend and enjoy the Highball Fashion Show.
4:30PM DJ Charles Erickson
7:00PM Nina West & the West Family
8:00PM Nick D & The Believers
9:00PM Mojoflo
10:00PM Battelle Costume Couture Fashion Show
11:00PM HB: High Fashion Public Costume Contest
See a full schedule of fall festivals HERE !
---